Shoe Along was created to give women a better, more stylish way to carry their second pair of shoes. Made with a soft, stretchy, easy to clean, nylon-lined, neoprene fabric the Shoe Along shoe bag gives women of all ages the ability to travel in comfort but arrive in style.
Most women, me included, carry their heels, flats or sneakers in plastic grocery bags, inside their purses and handbags, or in a separate bag all together. With the Shoe Along, women can now slip their second pair of shoes inside the Shoe Along and very easily attach it to the outside of their handbag by smoothly slipping the 7" strap on the bag of the Shoe Along over one handle of any dual strap handbag.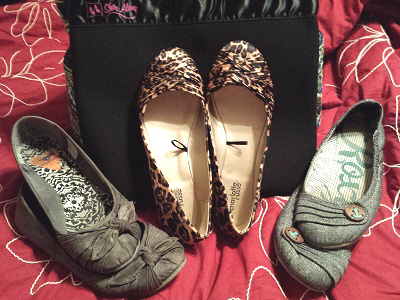 I absolutely love to wear flats, but wearing them all year long does some serious damage to the shoes that I adore…especially those that are irreplaceable. I was fortunate to review Shoe Along during our terrible snow storms here on the east coast. I give this product my full support. I never thought to invest in a shoe bag for traveling in harsh weather or for any of Shoe Along's other suggestions (girls night out, traveling, gym, etc.), but I am pleased I did.
The Shoe Along is incredible. I can carry my favorite pair of shoes without ruining them in rain or snow and without ruining the items in my purse. The Shoe Along is also easy to clean (hand wash, air dry). It can even carry two pairs of my shoes…which is convenient when I stay with my boyfriend for days at a time. Instead of my shoes sitting with my clothes in my weekend bag, they can now be easily stored in the Shoe Along.
If you are like me in anyway and wish for a way to save the shoes you love, then invest in your very own black, brown, or zebra bag (or get all three) and enjoy all that Shoe Along has to offer! You won't regret your decision.
Link to Article